The energy pathfinder project partners travelled to the city of Oulu in Finland for an in person partner meeting in April 2021. This trip was organised by our Finnish partner, Oulu University of Applied Sciences (OUAS). In addition to the partner meeting there was a visit to the town of Rahee which holds the demonstartor sites of the Rector's House and Rahee town hall.  
The Rector's House was built in 1897 and designed by Karl Werner Polon and Verner Polon. It was built by the National Board of Public Building. It was the Rector's Residence until 1950 when it was taken over by the Raahe Institute of Computer Engineering of OUAS. 
Julia Heinonen an architectural student at OUAS has been working over the last year on a codesign exercise to convert the Rector's House into a new artist residence, which follow closely the Co-Design guidelines proposed by Energy Pathfinder. She presented a comprehensive PPP Non teh proposal. 
Rahee town hall was originally a stately residence, competed in 1654 but was burned down by a Russian invasion in 1714. It was rebuilt in 1729 and burnt down again in 1810, together with many houses in the Town. In 1834 Gustav Robert Brunov, a civil servant, purchased the plot and commissioned A.F Grasndsted (student of Carl Engels) to build a new house. This was partly completed in 1839. In 1862 the building was purchased by the Town and used for social events. It then underwent various modifications and in 2003-2004 was completely renovated.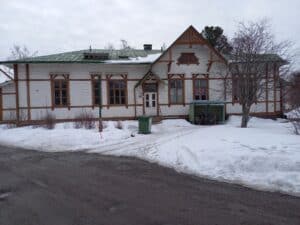 The partners also went on a day excursion to the towns of Liminka and Tyrnävä. In the town of Liminka the partners visited Liminka church, a 19th century neoclassical wooden structure. Tyrnävä is a traditional neighbourhood comprising around 200 wooden houses, all built in the traditional Finnish log cabin model. In Tyrnävä Church the partners were treated to a recital of organ music, including a very memorable rendition of Handel's Sarabande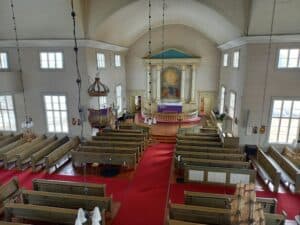 Interior of Liminka Church.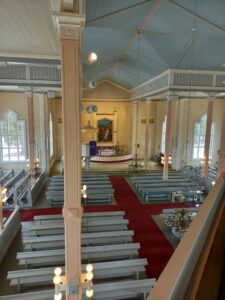 Interior of Tyrnävä Church.