1. Cork Centre for Architectural Education (CCAE)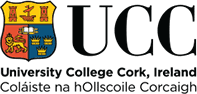 UCC's Cork Centre for Architectural Education (CCAE) is a joint initiative established in 2006 by two long established state institutions of Higher Education: University College Cork (UCC) and Cork Institute of Technology (CIT). The centre is staffed by eleven employees plus 28 practitioners. CCAE's role in the Project Management, as well as the development of the co-design methodology. CCAE will also be responsible for the overall strategic and implementation management of the project. The organisation, and its Project Manager, have extensive experience of the development, management and evaluation of EU projects related to construction, energy and energy management and sustainable building. CCAE will also be primarily responsible with NCE Insulation for the co-design process and development of the Cork Demonstrator project, the specification of retrofitting and renewables integration and the implementation of works.
Prof. Kevin McCartney (Director, Cork Centre for Architectural Education, University College Cork & Cork Institute of Technology)
Studied Architecture in Dundee and the Architectural Association, London. Doctorate awarded by the Royal College of Art, for research on the development and use of 'Architectural Energy Models'. Taught in the Architectural Association for ten years, and in University of Portsmouth for 17 years, before joining University College Cork to become the founding Director of the Cork Centre for Architectural Education in 2006.
He was a founding member, and Hon. Secretary for Islington Community Housing Cooperative, London and has been a member of the Development Committee for Sheiling Camphill Community in Dorset and the Management Committee of Ringwood Waldorf School.
Author of papers on bio-climatic architecture, energy in buildings, design education, and "Practical Solar Heating" – a book on the design and installation of solar water heating systems. Joint winner, with John Pardy and Colin Stansfield Smith, of the RIBA International Sustainable School Design competition. Has undertaken research on 'energy and buildings' with the financial support of the UK Science Research Council and UK Dept of Energy's Energy Technology Support Unit; 'intelligent buildings' for the UK Housing Corporation, and PRTLI in Ireland; and 'NEES sustainable construction materials' and Energy Pathfinder – Towards ZEB for Historical Buildings for EU-NPA (Northern Periphery & Arctic Region), and Enterprise Ireland. He has supervised and examined PhD research at the Architectural Association London, University of Portsmouth, Ulster University, AHO Oslo, and UCC Cork, and is a member of ARENA, the Architectural Research European Network Association.
Jose Ospina (Project Manager)
Jose Ospina (MA Arch) has been Project Manager for several EU Projects under various programmes, involving eco-design and energy efficiency retrofitting for social housing, and digital manufacture for SMEs. He worked in development of social housing UK and Colombia for over 30 years, mainly with housing associations and co-operatives. Since 2001 he has been Director of the Approved Housing Body Carbery Housing Association, and since 2020 of Green Skibbereen, an environmental company that has set up the Centre Excellence in Climate Action and Sustainability (CECAS) at Myross Wood House, West Cork. He has also been Expert Evaluator for the European Commission on the energy, environmental and urban innovation funding programmes for the 9 years, and has published one book (Housing Ourselves, Shipman 1987) and several related articles in academic journals and magazines.
AKIBOYE CONOLLY ARCHITECTS
Trained at Architectural Association, London (5th year prize) to RIBA Pt 3, AA Diploma, ARB registered architect; founding partner of Air Structures Design, experimental development of variable geometry and self-articulating cellular structures; innovative building product development with Richard Rogers/P. A. Technology & Science Centre; principal architect, research and development to London Borough of Haringey; project leader on a number of major buildings; associate with Ian Ritchie Architects for 11 years responsible for a number of major projects and of the practice's work on innovative development work in building envelopes & structural glass; partner in A C Architects
Sample publications
Conolly S and Ritchie I, The Biggest Glass Palace in the World, Ellipsis (1997)
Conolly S, Reina Sofia case study in Architects' Guide to Stainless Steel SCI (1997)
Conolly S, Glass in structural Engineering in The Structural Engineer pp230-231 (18.7.95)
Conolly S, Toward the Transparent Envelope pp42 – 44 in AJ (15.6.95)
Conolly S, Review of smart materials and structures, Japan. In Steel Construction Today (No 6 Vol. 6), 1992
Trained at former Polythechnic (now University) of North London to Dip Arch Hons., ARB registered architect, RIAI member.
Senior architect at London Borough of Camden, including renovation, and upgrading of energy performance in public housing.
Partner in A C Architects – consultancy on building envelope performance and structural glass; designed and built a number of low and zero energy passive and solar houses, including self-build, and upgrading of older and listed historic buildings.
The partners have been part time teaching in UCC since 2002, including technical module, studio Tutor to final year MA (Arch) and 4th year at CCAE, and since 2014 teaching a live structures project to final year engineering students.
Akiboye Conolly Architects are currently (2020) working on small community and predominantly domestic projects in Ireland, and EU-funded research on upgrading historic buildings to near zero energy standards.
Jack R. Lehane is a Ph.D. Candidate at University College Cork, where he graduated with First Class Honours (BSc Arch) (2016) (UCC/MTU), and has engaged in numerous international cross-border construction enterprises since 2014 — most recently Lebanon, Fiji and Nepal. In line with Design Studio and Dissertation tutorship at CCAE, and as sitting chair of the All-Ireland Architecture Research Group (A-IARG) steering committee, his research trajectory aims to facilitate pragmatic design response to social needs towards more resilient forms of architecture practice via the support, promotion and development of participatory design education and application
2. Historic Environment Scotland (HES)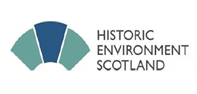 HES is the lead public body investigating, caring for and promoting the historic environment, responsible for more than 300 properties of national importance, include Edinburgh Castle, Skara Brae and Fort George. HES also administers Scotland's statutory heritage designation and protection system and is responsible for internationally significant archival collections. HES invests about £14 million a year in national and local organisations, supporting building repairs, ancient monuments, archaeological work, the Conservation Area Regeneration Scheme, and the voluntary sector. Our conservation experts provide guidance, training and technical research into Scotland's built environment and associated community outreach. HES's Technical Research Team focuses on climate change impacts on historic places and energy performance improvements of historic buildings and urban areas, with particular expertise in building performance monitoring, demonstration projects and associated training.
Carsten Hermann Dipl.-Ing. Architect ARB CAABC RIAS
A conservation architect, Carsten Hermann works as an advisor, investigator and research project manager in the field of sustainable conservation of cultural heritage at Historic Environment Scotland (HES), Scotland's national public body to safeguard and promote the historic environment. He specialises in energy performance improvements of historic buildings, climate change adaptation and the conservation of the built heritage of the 20th century.
Carsten has been participating in a variety of project funded by the European Union: Currently, he is leading a work package of the project Energy Pathfinder (2019-2022, Interreg NPA), concerned with energy performance improvements of historic buildings in northern Europe. Previously, he coordinated the project Adapt Northern Heritage (2017-2020, Interreg NPA), concerned with climate change adaptation of historic places, and administrated Advanced Limes Applications (ALApp, 2016-2019, Creative Europe), on mobile device applications to present archaeology of the UNESCO World Heritage site Frontiers of the Roman Empire, and HES's principal investigator and project manager for EFFESUS (2012-2016, FP7), researching energy efficiency of historic city districts.
Carsten is a member of the technical committee concerned with cultural heritage conservation of the British Standards Institution and was a member of the related committee at the European Committee for Standardization. In a private capacity, he is Treasurer (and was formerly Coordinator) of Docomomo Scotland and a member of the International Scientific Committee on Technology of Docomomo International and of the International Scientific Committee on Risk Preparedness of ICOMOS United Kingdom.
Carsten studied architecture and worked in construction and project management in Germany, India and the United Kingdom. Settling in Scotland in 2005, he worked for several years for conservation architects in Edinburgh, before joining in 2009 Historic Scotland, which in 2015 became Historic Environment Scotland.
Roger Curtis is a Chartered Building Surveyor with a background in construction work on historic and traditional buildings. He has RICS building conservation accreditation and has been with Historic Environment Scotland since 2006 and is responsible for managing the Technical Research Unit, its programme and its published outputs; his team interacts widely through outreach work with industry, building professionals and trades.
Work strands include trials and demonstration work relating to energy efficiency in older buildings, climate change adaptation, the use and specification of traditional materials and emergency repair. His team also sponsors projects on traditional buildings with community and other groups to demonstrate all aspects of repair and upgrade.
Kenneth's professional interest is sustainability in the built environment, with expertise primarily in domestic energy efficiency retrofit, traditional buildings retrofit, and micro-renewable technologies. With Historic Environment Scotland since January 2021, his previous role was as a specialist advisor within the Scottish Government's Home Energy Scotland advice service, he also has experience in a number of community engagement roles. In his spare time, he enjoys hillwalking, baking, and reading science fiction.
Qualifications:
• MSc Urban Strategies and Design; University of Edinburgh
• BSc Geography; University of St Andrews
• Accreditation as a Domestic Energy Assessor
Landsverk was established in 1948 under the name "Landsverkfrøðingurin". From the very beginning, the institution has overseen technical building projects in the widest sense for the country and its municipalities. Today Landsverk is an institution under the Ministry of Transport, Infrastructure and Labour. Landsverk oversees road, harbour and entrepreneurial tasks. The institution consults, plans, carries out, runs and maintains main roads, harbours, buildings, helipads and the area around the airport. A bill has been passed that Landsverk inspects the public companies, the Vága tunnel and the Norðoya tunnel, that own and run the undersea tunnels under Vestmanna Sound and Leirvík Fjord. Landverk will contribute a Demonstrator historic building ( a former Vicarage) where comprehensive retrofitting work is being carried out. Landverk will monitor the impact of the retrofit and renewables generation, and inform the Toolkit of best practices, in monitoring and behaviour change.
Bárður is an architect at Landsverk, Office of Public Works in the Faroe Islands. He has over 20 years of experience, including 12 years of planning, consulting and project management in the public sector. His professional interest is architecture and what buildings and facilities can create or influence people's daily lives, architecture for people and architectural policy. In recent years, he has particularly worked with the renovation of historic buildings and cultural heritage.
Qualifications:
Architect, Cand.arch, from the Royal Danish Academy of Fine Arts, 1998
Extensive experience in renovating cultural heritage in the Faroe Islands
Course and experience with project management
4. Oulu University of Applied Sciences, Finland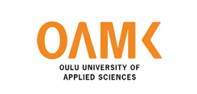 OUAS is the biggest tertiary level engineering educator in northern-Finland. The Department of Civil Engineering has degree programs of Building and Construction and Architectural Engineering. The experts of the two program will take care of main duties in this proposal (The work package leadership for WP T4 Toolkit and Demonstrators). Besides senior lecturers and lecturers, the staff at OUAS include project managers, project coordinators, project planners and financial officers dedicated to local, regional, national and international projects only. Key roles in Pathfinder are experts in the degree program of architectural engineering. Roles in the Pathfinder! -project: 1. Collaboration in all actions of the project with other partners 2. Work in WP T1, T2 and T3 in co-operation with town of Raahe, to develop methods and material for stakeholders about retrofitting and increasing renewable energy solutions. 3. WP T4 work package leader international.
Oulu University of Applied Sciences (OUAS) Project Team
Kai Tolonen is an architect (MA). He is currently the CEO of Tilatohtorit Oy and teaches architecture and renovation at Oulu University of Applied Sciences. In 2006-2012, he also taught architecture and renovation at the University of Oulu.
Kai Tolonen also has a bachelor's degree in geography. Kai Tolonen has also participated in numerous international conferences, invited as a key-note speaker, and written numerous articles.
Kai Tolonen has been e.g. Chairman of the Technology Industry Northern Finland, in the Major Project Committee of the Oulu Chamber of Commerce and in the Industry Committee of the Lapland Chamber of Commerce. Kai Tolonen has also been the chairman of the SAFA Architects of Northern Finland and served on the Federal Council of the Finnish Association of Architects.
In 2012-2021, Kai Tolonen worked for FCG Oy, owned by the Association of Finnish Municipalities, as the regional manager for Northern Finland, responsible for the business, public relations and sales and marketing of the three regional offices, and worked as the chief designer. Business in the area was very profitable.
Previously, Kai Tolonen has worked e.g. employed by municipalities as a regional architect in five municipalities and in the Finnish state administration. Kai Tolonen has been preparing or managing building plans, land use plans and land use planning studies at various levels for more than 25 years.
Kai Tolonen is leading two international EU projects at Oulu University of Applied Sciences: Energy Pathfinder and Enhanced Sustainability of Built Environment by Collaboration and Digitalization (ESBE). The projects deal with e.g. carbon balance, climate indicators and digitalisation in the built environment.
Kimmo Illikainen Senior Lecturer, MSc. Pekka Illikainen is specialized on BIM (Building Information Modeling) and building physical simulation (HAM, Heat and Moisture). He is responsible for develop BIM in education and R&D project close together with construction companies and consults.
He has also done wide on-site studies and theoretical HAM-simulation in the field of low-energy and passive houses. He has had active role in several R&D project with construction companies.
Kalle Parviainen is working as a project planning officer at the Oulu University of Applied Sciences (Oamk). He has a Master's degree in English Philology from the University of Oulu and is an expert in communications and translation. Apart from linguistic matters, he has also studied construction engineering, so his current position at the Department of Building Services, Energy Engineering and Civil Engineering fully utilises his multifaceted background. He is especially interested in popularizing technical issues and bringing more understanding to the public via accessible content.
Pekka Alaluukas graduated from the University of Oulu with a master's degree in applied mathematics and statistics. Pekka Alaluukas has worked as a programmer e.g. At Oulu University Hospital. He started as a programming teacher at the Oulu University of Applied Sciences (Oamk) in year 2000, where he still works.
The multidisciplinary expertise of the group in the building sector would be useful in the different work packages in the project. The research group has competence in monitoring and analaysing the performance of the renewable energy technologies and energy performance analysis of buildings. Also, the group has strong expertise in diffusion of innovations and in studying the attitude and behaviour of end-users towards renewable energy technologies and energy efficiency measures. This research competence will be useful in studying the benefits of energy efficient renovations in historical buildings. The role of UmU will be the collection and analysis of baseline information regarding historic buildings in partner regions, as well as specific background information on the demonstrator buildings, including energy usage, CO2 footprint and energy behaviour. UmU will also guide the setting of key indicators for evaluating the impact of the project, and asses its overall impact at the end,
Gireesh Nair is an associate professor at the department of applied physics and electronics, Umeå university. Gireesh has multi-disciplinary research experience on energy issues in the built environment. His research involves energy efficiency and thermal comfort aspects in buildings and also topics such as the occupancy pattern in tertiary buildings and ventilation and heating system to improve energy performance of such buildings. Gireesh is experienced in using both qualitative and quantitative survey methods and in the past had conducted national and regional surveys to understand homeowners' perspectives on energy issues and their energy efficiency behaviour. Prior to moving to academics, he worked for several years as a consultant for energy efficiency improvement of industries and buildings in India
Thomas Olofsson is Head of Department of Applied Physics and Electronics at Umeå University. He is a professor in energy efficiency, with a focus on buildings. His research focuses on reducing building energy end-use with improved indoor comfort. The scope is to propose, implement and evaluate strategies for increased energy performance and thermal comfort, evaluations of building energy efficiency, and parameter identification. Methods include analytical models, such as simple regression models and more complex data-driven approaches, and physical simulations. Investigations also have a user and stakeholder perspective to map behavior, perception, adaptation, and attitudes. Studies include HVAC systems and indoor climate, building components, building construction systems, and district heating.
6. NCE Insulation - Energy Hub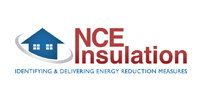 The NCE Energy Hub will be responsible for the Communications work package, as well as working in partnership with CCAE for the co-design process & development of the Cork Demonstrator project. They will also work on the specification of retrofitting and renewables integration & the implementation of such works. NCE Insulation is one of the largest community-based enterprises, installing renewable & energy efficiency measures in privately owned homes, social housing, commercial & community buildings all over Ireland. NCE Insulation's energy hub provides free advice on any energy-related, building upgrade projects & we are also involved in community engagement activities such as organising seminars/ public information sessions & energy advice clinics for different communities interested in moving towards a low carbon future.
NCE Insulation Project Team
Caitríona is the Manager of NCE Energy Hub, a community energy support office that assists homes, businesses & communities to become more energy efficient, reduce energy bills & move towards a low carbon future by providing advice on what SEAI grants are available and aiding them with the delivery of a project from start to finish. She is currently working across the following Sustainable Energy Authority of Ireland schemes; the Better Energy Communities programmes, Better Energy Warmer Homes Scheme & the Deep Retrofit Pilot programme. Project Manager for NCE Insulation on the EU NPA funded project called Energy Pathfinder. She previously worked on Working on smart solutions for a European project called 'E-lighthouse' which involved a pilot project of installing an energy monitoring system in 5 low-income homes. She was also involved in setting up Energy Union, a one stop shop for domestic energy retrofitting, working in partnership with 9 credit unions around Cork.Caitriona is the Project Manager on the ReVive Paint Circular Economy project at NCE. This project is the first in Cork City and aims to provide employment opportunities for people in recovery while also reducing the amount of good quality paint that ends up in landfill.Caitríona worked in architecture in Cork and Limerick before joining NCE. Caitríona is a Director of Cork Environmental Forum.
Qualifications:
Degree & Master's in architecture from University College Cork.
Project management Level 6 QQI 2020.
Certificate in Management Practice 2020-2021 University College Cork
Training Delivery & Evaluation 2020
Currently studying Building Performance (Energy Efficiency in Design) Level 9, TU Dublin