On November 18th 2019 Oulu University organised an information Seminar in Raahe, Finland to present and discuss activities in the Energy Pathfinder Project.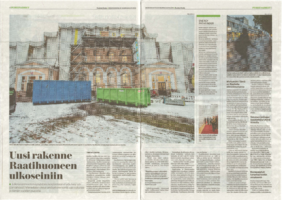 Energy Pathfinder Event
The event was lead by the mayor of Raahe Town and there were invited representatives of associate partners, The Finnish Heritage Agency, Museum of Northern Ostrobotnia and the Council of the Oulu Region. The event included visits to both Energy Pathfinder pilot sites.
The Town Hall and Rector's House are located in the Raahe Seminar campus. The day was a great success which was shared to public as the front page of local newspaper Raahenseutu.
Oulu University – Energy Pathfinder Demonstrator Sites
Town Hall – Raahe
Pilot One for OUAS is the Raahe Town Hall (built 1838), where works are due to begin in summer 2019. The top management (appr. 30 persons) of Raahe town is working in this building. Works are mainly structural, involving the replacement of lower structural logs. Having district heating, energy retrofit can be done by adding insulation (now 6-8cm of plaster, up to 10cm, add windstopper?) to external walls. Measures (air tightness, heat camera etc.) will be done before and after the retrofit.
Rectors House – Raahe
Another demonstrator for OUAS is the Rector's House (built 1899) in the Seminar Campus (a total of 12 buildings), which is a historic timber building, currently unoccupied. This building will be very good pilot for the Co-Design process proposed. Several thesis projects will be done as plans how to retrofit.